Electrical Safety Training Compliance
At EPSCO, we're passionate about instilling a culture of electrical safety — But we also understand that electrical safety is a matter of practicality for many organizations. Meeting regulations and following the electrical safety training compliance code set out in the NFPA 70E is necessary for every facility.
EPSCO's OneMoment online training series is designed to help every member of your team know their part in electrical safety so that your facility will meet compliance requirements for electrical safety training.
Electrical safety training is usually divided into two types of employees, Qualified Workers, and Unqualified Workers. Your first task in training is identifying who is who:
The NFPA defines a Qualified Worker as "one who has demonstrated skills and knowledge related to the construction and operation of electrical equipment and installations and has received safety training to identify the hazards and reduce the associated risk."  An Unqualified Worker is anyone who does not demonstrate those skills.
Creating a culture of electrical safety is a collaboration involving your entire team, so while Qualified Workers need to meet requirements, it's also crucial for Unqualified Workers to learn how to spot hazards so they can report them to the right people and avoid making catastrophic mistakes.
EPSCO makes more key distinctions with four (4) worker categories to deliver the most relevant safety information to everyone on your team. OneMoment's four (4) learning paths provide specific training for Safety Managers, Engineers, Qualified Workers, and Unqualified Workers. All of our exercises are designed to foster collaboration and build a culture of electrical safety at your facility. For example, qualified workers complete exercises that define their everyday tasks, and then engineering students use that information to develop plans to control those hazards. With this level of engagement, safety managers will get a chance to learn what the real issues in their facilities are and how to help create a safer work environment.
With everything you face in your workday, staying on top of electrical safety requirements can be challenging. The NFPA 70E changes regulations every three years, and rules constantly evolve:
Qualified Workers need to complete safety training on a

three-year cycle

.
Unqualified Workers are required to complete safety training

annually

.
Everyone in your facility should complete contact-release training

every year

.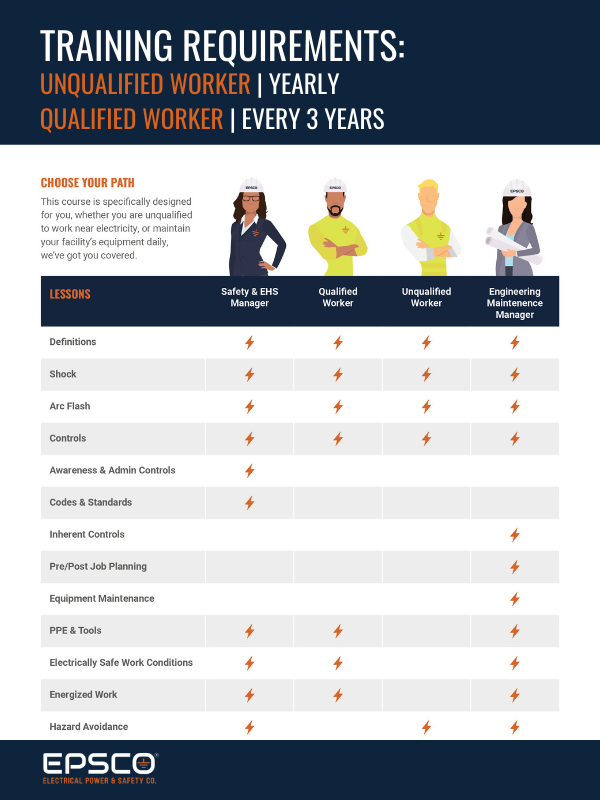 With our focus solely on safety, EPSCO's OneMoment electrical safety training will ensure that your team is up to date and up to code – And we do it in a way that's a lot easier to understand than a government manual.
Partner with EPSCO today to ensure your team meets compliance for electrical safety training and help us reach our goal of eliminating electrical fatalities by 2030.
Get your team started today!
Schedule a Safety Consultation