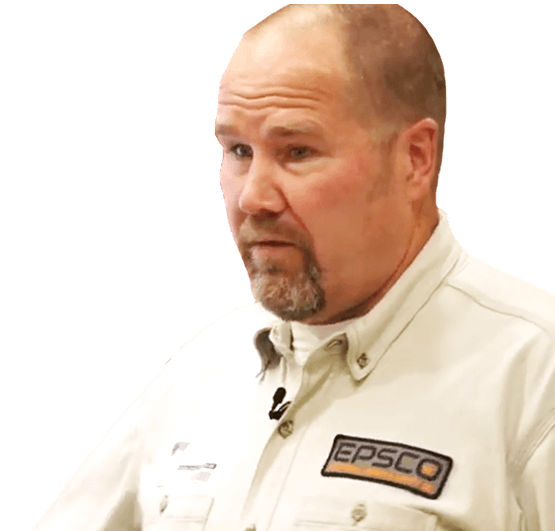 Electrical Safety
Training
Real-world training by people who live it
Forget death by PowerPoint. Our NFPA 70E/OSHA 1920-compliant electrical safety training will keep your team engaged from start to finish with hands-on, mock projects they're more likely to remember. Our training is delivered by authentic and experienced engineers who've worked in the field and know first-hand the day-to-day safety issues your team faces. This four-hour training experience could be the best investment you make in creating a culture of safety and awareness.
Take a look at what our Electrical Safety Training includes
Epsco's Electrical Safety Training is available in two formats
Onsite Training
One of our experienced electrical engineers will come to your facility and provide personal, hands-on training for your team. We'll cover a full agenda of electrical safety topics, plus answer any questions or concerns you have specific to your facility. Participants who complete the course will receive a Certificate of Completion and a wallet card.
Interactive Online Training
This course is perfect for training new employees when turnover occurs. Its interactive format keeps participants engaged with onscreen questions that must be answered before the attendee can advance to the next section. A live instructor is available to answer site-specific questions as they arise.
Epsco's Electrical Safety Training is rated
Our four-hour training includes
Introduction
Codes and Standard
Federal Safety Regulations (OSHA)
Enforcement Agencies (NFPA, IEEE)
Other Standards and Guidelines
Safe Work Practices
Employer Responsibilities
Employee Responsibilities
Contractor Responsibilities
Equipment Working Clearances
Preliminary Planning
Selection/Use of Safe Work Practices
Exposed Energized Equipment
Proper Switching Procedures
Proper Lockout/Tagout
Proper Grounding Techniques
Work On or Near Energized Equipment
Test Equipment Safety
Electrical Interlocks
Electrical Shock
Nature of Electric Shock
Shock Severity Factors
Response to Shock
Quantifying the Shock Hazard
Mitigating Shock Hazard
Relaying and Protective Equipment
Shock Victim Rescue
Arc Flash and Arc Blast
Fundamentals of Arcing Incidents
Quantifying the Hazard
Preventing Arc Flash Hazards
Difference between Flash & Blast
Personal Protective Equipment
Working Distances Definitions
Hands on Simulations
Hazard Avoidance Techniques
NFPA 70E Tables Calculation VS Performing an Arc Flash Analysis
We hired EPSCO to perform an Arc Flash Analysis on all of our electrical equipment in the plants. They performed their work efficiently and provided us with a very detailed report and drawings. The communication from the entire team throughout the project was above and beyond my expectations and the subsequent training for my employees after the study was extremely beneficial in helping to increase our in-house electrical and safety knowledge. Their understanding of customer service is exceptional. I would highly recommend their services to others in the manufacturing industry.
Ben Bertram
Plant Manager
Sanimax